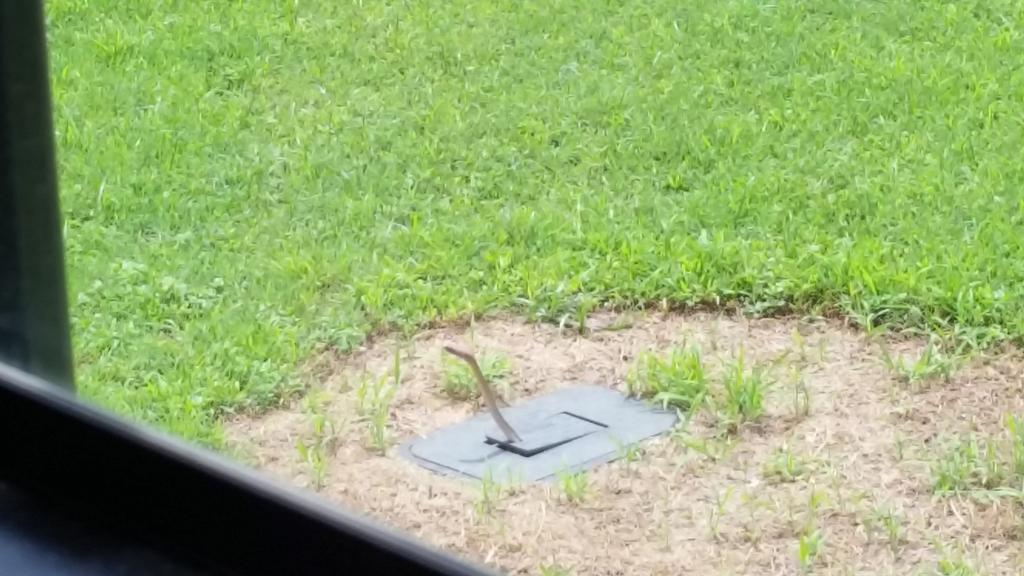 If you are subscribing to my Twitter account, you've notice that our porch view has changed (yes, that is a snake). We are preparing to travel again. Nick and I are both excited to return to the road again. It's been too long.  We are looking forward to family visits, RVICS projects, meeting new people and exploring this great country of ours. And we have a new travel trailer, because 5th wheel extra steps were just too much for me. We've downsized.
The new trailer is significantly smaller than our last one. We spent lots of time researching ways to increase storage. Let's just say that there are some extremely creative people out there. We've successfully used or adapted some of the ones we've seen.  And I must say that a lot of the credit goes to 3M and their Command strips.  We have used them all over the trailer (not really cuz you're probably visualizing the trailer covered in strips now). By using them we've avoided using nails and screws to hang things in the trailer (never knowing what you might hit behind those thin walls). We have managed to get everything in and will head out tomorrow
And you're probably wondering just where the "checklist" comes into this blog.  Me too. I started a checklist for us, which Nick turned into a lovely spreadsheet.  However, as I began to work with it, I realized that some of the things on the list were already in the trailer. Now I don't know what I need to add or already have on the list. So, it seemed senseless to continue the list, even though I probably should have used one. If you don't know me, Nick (very gently) asked me recently how I got everything done, because I move from one thing to another.  Now wasn't that a nice way of asking how I accomplish anything? I'm used to it. I have a super organized daughter, who I drive bonkers when I am working on something just for that very reason-I jump from one thing to another. I do eventually finish though. So no checklist for us. I wonder what we'll have forgotten?
Do you use checklists? Nick and I used one this year as we read through the Bible. We didn't go straight through, but used a chronological plan, which is one that jumps around. Then we did our own thing, because we wanted to follow one book with another one that wasn't part of the plan. Hence, the checklist has been necessary and very used. When we start to read the Bible again, we'll probably have another checklist.
I've never read the Bible completely, so this will be a first time for me.  I always bogged down around Deuteronomy. I discovered I have sure been missing a lot.  Wow! The Bible is God's love letters to us. He wants us to know Him and how much He loves us. Have you read through the Bible. Check out one of those many plans, make yourself and checklist and enjoy. It's wonderful reading!
Blessings,
Boo with Nick